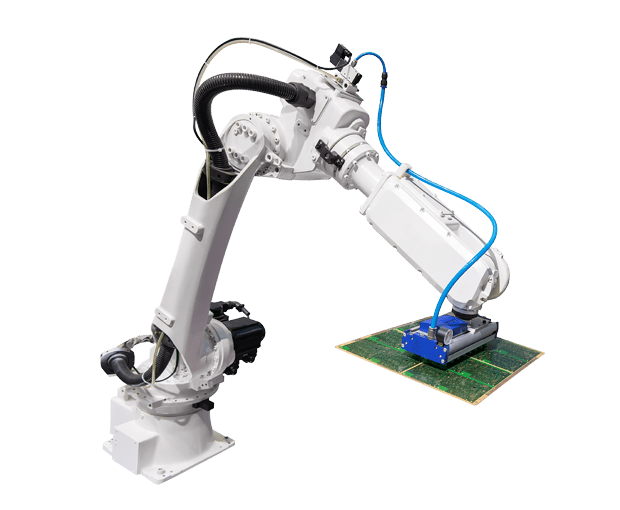 We offer as part of a total package the design and manufacture of bespoke handling systems which include vision systems and end of arm tooling.
FOR A GREATER LEVEL OF STANDARDISATION
RoboMotion vision systems include:
In house integration of a wide range of camera technology to provide the right solution every time, full technical support with remote diagnosis capability and Front end feasibility studies for complete peace of mind.
Applications of vision systems include:
Presence/Absence detection
Defect detection
Automated vision test & measurement
Pattern matching
Vision guided robot
Part verification (orientation, function, dimension, finished part features)
Optical character recognition & verification (OCR/OCV)
Colour verification
Sorting
Barcode reading and traceability

Frequently Asked Questions
Below are the most asked questions for EOAT and Vision Systems
A vision system enables high-precision machine vision inspection, verification and analysis across a variety of products and industries, including automotive, medical device, pharmaceutical, electronics, packaging, food and drink, identifying defects in parts and orientation for pick and place.
Vision sensors create added value and provide operational excellence by enabling faster, more efficient, real-time data.
Protecting a user's reputation with end customers and consumers due to perfect quality parts only being processed during production
Minimising production downtime for the user.
Shrinking quality concerns, increasing production quality
Give us a call on 01746 866 711 or drop us an email at info@robomotion.co.uk
Alternatively you can request a callback below, fill out the form and we'll be in touch as soon as possible.